Trust Us And Save Your Damaged Carpets In No Time
Secure your carpet by having joints intact and enhancing the beauty of your carpet. Not only during the installation carpet seams should be dealt with professionally but also later regular checks are required in order to avoid tripping accidents. Poor installation of carpets or water-damaged carpets or heavily trafficked carpets or carpets with pets around tends to tear over the seams. By hiding or locking the seams of the carpet, one can increase its lifespan. No one else can do it except Invisible Carpet Repair Melbourne. Torn edges and splits present in carpets are highly dangerous and also result in fraying. The carpet needs repairs and for repairs remember only one name Invisible Carpet Repair Service for the neatest service every time.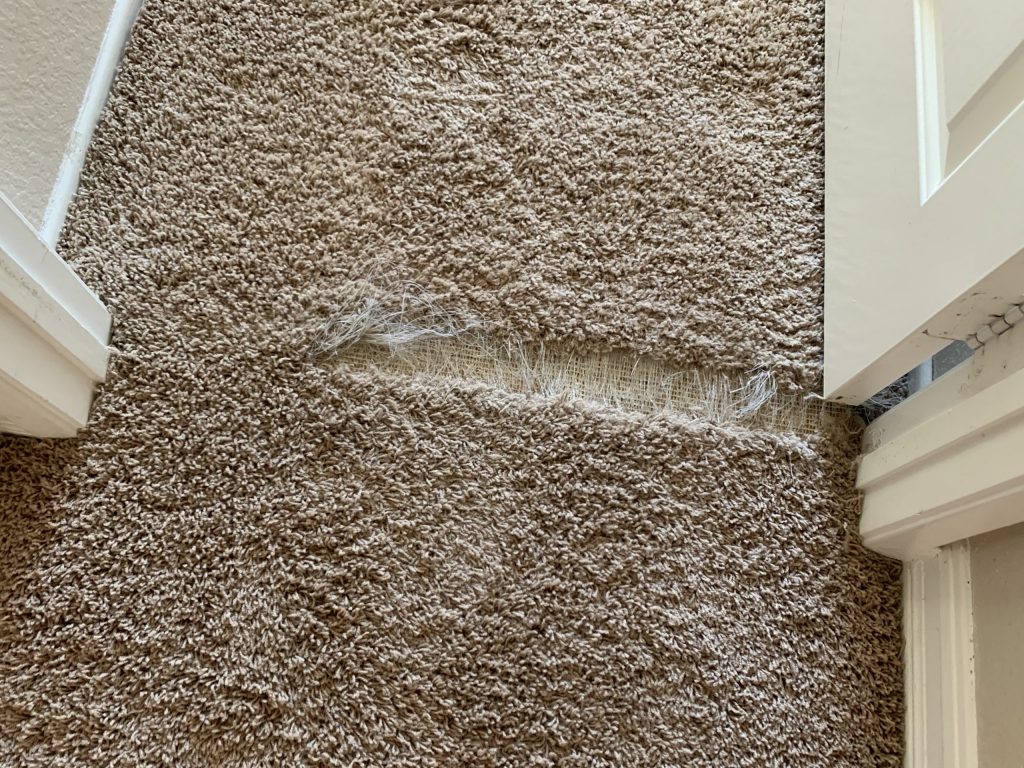 What Do Our Experts Do For Carpet Joints And Splits Repair
Through examining the carpet for loose joints and splits. After assessment money and time required will be discussed and a final quote is generated.
Clearing the splits and joints from frays and all.
Regluing and/or stitching the loose ends depending upon the fabric matrix and fabric loss.
Equipment like cutters, brushes, stretchers, and carpet knee kickers are used to do final tweaking and fixings.
When Should You Call Us For Carpet Joints And Splits Repair
Your carpet will let you know when to call us. If carpet joints are troubling due to mal installation or due to some mechanical pressures exerted on them then definitely it's time to call us. Split ends and torn joints will sooner or later result in fraying and fraying once begins will continue to grow. You may succeed in stopping it temporarily but will not be able to avoid it completely. Make your house or commercial floor safe and tidy looking and book us now to avail of our unmatchable services at unmatchable prices. As the name suggests we do repair carpets as neatly as the fault was not there. Invisible Carpet Repair Melbourne is the solution to all your carpeted floor-related issues. Call us to know your quote now!
Why Are People Choosing Us For Carpet Joints And Splits Repair?
We are quick in our approach. We understand your discomfort and simply don't delay in approaching you.
We have a fully trained and licensed team of servicemen who are fully equipped with the tools, ideas, and suggestions all the time.
We offer our services at prices you will feel worth for sure.
We cater to each and every query whether minor or major, commercial or domestic, urgent or scheduled.
We Provide These Same Day Services At Low Cost
FAQs
Q. Do you provide service in the Melbourne suburbs region?
Yes, we cater to the whole of Melbourne and its Suburbs.
Q. Is it possible to repair the torn seams of the carpet?
Yes, it's possible but still, the damage and type of carpet fabric are assessed closely by our experts so that the repair quality will be discussed beforehand. As sometimes damage is so intense that patching can either be not possible or can be traced after repair.
Q. Can wrongly installed and overlapped carpet be corrected?
Yes, very much these hurdles or overlaps can be removed easily by our experts giving out a smooth hassle-free look and feel to your carpet.