Pets Damage Carpet Repairs: We Make It Easy With Our Experts
Pets are lovable surely but often cause damage here and there in the house. The most common is damaging carpets by pets in multiple ways like by urinating or even pooping,  scratching, digging, or chewing. You become ignorant of many of your pets' habits in exchange for their invaluable company. Your visitors may not take the things you see, one of which can be damage caused to the carpet by pets. 
Even at a particular point, you will be looking for carpet repairs as the sight will always give you an eyesore. For the finest pet damage carpet repair in Melbourne call your ever-ready helpers – Invisible Carpet Repair Melbourne. We are ready to assist you anytime with our expertise in carpet repair services.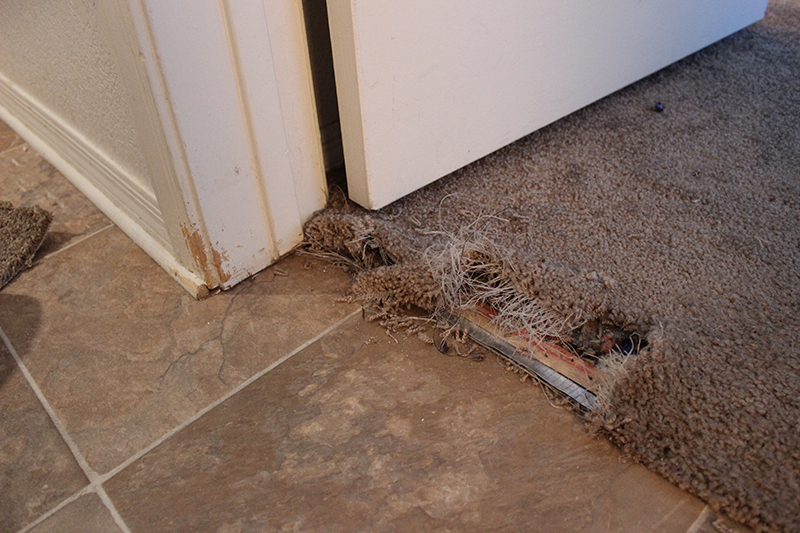 How Do We Do Pet Damage Carpet Repair Process?
We go well up on inspection first to check the condition of the damage. According to which price quote will be offered.
Remove the chunk of carpet from the hidden areas beneath or behind the furniture.
Then use super glues and/or hot glues or latex adhesive to stick the patch. There the carpet fabric is being transplanted completely.
Next, the foremost, setting in a patch just aptly by our cutting and brushing tools to give it a seamless look. We justify our name every time – Invisible Carpet Repair.
Setting off the furniture and carpet back to their original sites.
When To Contact Us For Pet Damage Carpet Repairs?
When you conclude that the damage cannot be handled by DIYs and the damage is eye-catching you need to call experts. Not only damage by pets but if you need any carpet repair service, you can call Invisible Carpet Repair Melbourne anytime 24X7. Patch fixing, colour fixing, seam, and split fixings, pet damage fixing, or any repair your carpet demands we are ready with the solution. If your pet opens up the locks or splits of the carpets it will be more dangerous than looking shabby. This can invite big accidents so to make your carpet seamless again call on our toll-free number and avail of our anytime/anywhere service in Melbourne.
Why Are People Choosing Us For Pet Damage Carpet Repairs?
We are dealing with all types of carpets – wool, nylon, olefin, linen, viscose & Tencel, and likewise more.
We serve emergency repairs in the whole of Melbourne and its suburbs.
We are a team of licensed and well-trained professionals.
We have been a 5-star rated company for four consecutive years and are reasonable in our prices.
We are available on weekends and public holidays as well.
We Provide These Same Day Services At Low Cost
FAQs
Q. Do you provide emergency services?
Yes, we understand the crisis at your end and can reach you within 1 hour of your call.
Q. How long does it take to patch a damaged carpet?
It depends upon the size of patchwork required and the fabric type of carpet. Generally, it takes 1 to 2 hours to fix a single patch.
Q. Is it possible to repair the fraying in the carpet?
Yes, why not! Our expert servicemen are well trained to handle any damages caused to your expensive carpets.